IRATA International's rope access system is a safe method of working at height where ropes and associated equipment are used to gain access to and from the work position, and to be supported there.
The advantage of using rope access methods mainly lies in the safety and speed with which workers can get to or from difficult locations in order to carry out their work, often with minimal impact on other operations, surrounding areas and the environment. Another major benefit is the reduction of the combination of the total man-hours and perceived level of risk for a particular task (man-at-risk hours) when compared with other means of access and their associated risks and costs.
The primary objective when using rope access methods is to carry out the work efficiently, with minimal accidents, incidents or dangerous occurrences. In order to ensure a safe system of work is maintained at all times, whilst avoiding damage to property or harm to the environment, careful planning and documented risk assessments are undertaken for each operation.
IRATA International has a continuously evolving regime of work procedures that members are required to follow and which are monitored for compliance to ensure that a safe system of work is established and maintained. This sets IRATA International member companies apart from rope access companies that are not subject to such a rigorous monitoring, controls and IRATA's robust Training, Assessment and Certification Scheme (TACS).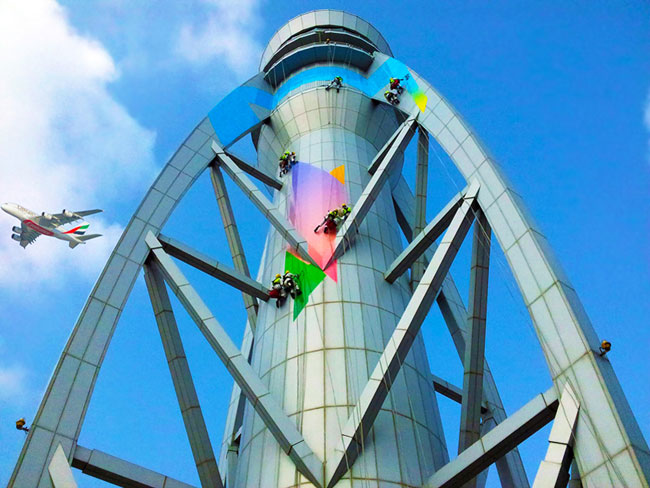 Like any other method for working at height, the application of rope access should be regarded as a complete system, in which planning, management, competence and suitable equipment should be treated with equal importance, as each is dependent on the other to ensure a safe system of work.
The IRATA International Code of Practice (ICoP) gives recommendations and guidance on the use of rope access methods in order to provide a safe system of work for the appropriately trained reader (the parts should be read in conjunction with each other, but particularly Part 1 with Part 2):
Part 1
Fundamental principles and controls.
Part 2
Provides more detailed guidance following the previous part.
Part 3
Annexes giving advice on the rope access aspect of associated work practices and information on other relevant topics. (Several of these annexes are still under development.)
Part 4
Relevant national legislation.