​Created in response to a specific need in the inspection and maintenance of offshore oil platforms, IRATA International spent the following 29 years providing operational solutions to the work-at-height and confined access sectors and, in doing so, has constantly shown its procedures to be more effective and efficient than many of the mechanised access systems available to the market.
Furthermore, it has shown that rope access, when undertaken by a professionally trained and well-supervised workforce operating to set and established procedures, can deliver safe working to a level unmatched by other methods. Once IRATA International members had proved themselves offshore it was quickly seen that rope access had many applications onshore too.
Today, IRATA teams can be seen at work on the world's great iconic buildings, both old and new, as well as your local city centre or industrial complex; it also is widely used in the natural environment such as cliffs and rock formations and has significantly expanded its work portfolio offshore.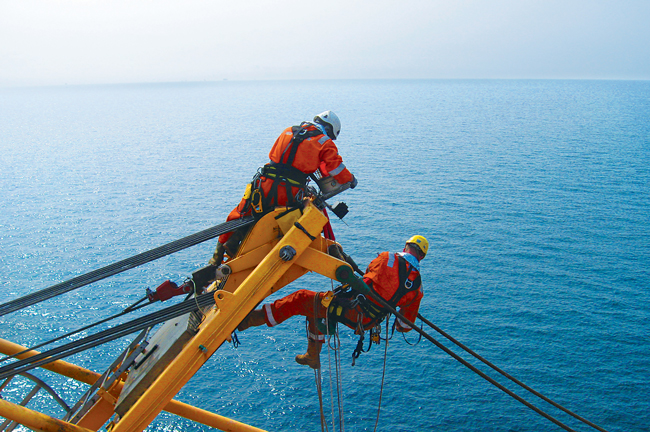 Photo by C2 (Crane Inspection Services B. V. 2 Go Access) © 2018
Industrial rope access is a means by which workmen can get to a position where they can safely apply themselves to the work required and, with modern building design creating ever more challenging extravagant shapes and at greater heights, rope access technicians can work around such obstacles and design features that prohibit the use of other forms of access.
IRATA International is a trade association run by its Members. Recent years have seen the organisation grow at a remarkable pace to a point where it has member companies in every continent who collectively work in excess of 22 million hours on ropes every year; a substantial number of rope access technicians are trained and assessed every year and over 100,000 are currently registered with the Association.
In the 21st century this non-mechanised and environmentally friendly means of access is destined to become an ever-increasing choice for those commissioning safe work at height. IRATA International is proud to have led the way with its high training standards and operational excellence, thereby resulting in many countries adopting our safe work methods.
Why use an IRATA Member Company?
Working at height safely is not achieved without diligence, careful planning and considered application. IRATA's safe working record is independently verified annually through its unique Work and Safety Analysis Report (WASA report) that has been produced for the last 20 years. The document is produced from member company quarterly statistical returns and compiled by a senior Health and Safety expert, who is encouraged to produce the report without editorial restriction. The completed report is made available, free of charge, to all stakeholders within our industry sector. These reports have shown an incident rate that is far below expected levels for the sector, reported by national governments or trade body.
The IRATA assurance of safe and responsible working is based on:
Adherence to a strict code of conduct;
Audited and regularly re-audited member companies;
Robust membership entry criteria;
Tens of thousands of rope access technicians who have been thoroughly trained and are required to re-train every three years;
The independent assessment of every IRATA trainee technician wherever in the world he or she is trained;
An unrivalled level of site supervision;
Mandatory work procedures that are a constant wherever IRATA teams operate.
IRATA member companies approach their work with professionalism and a confidence in their ability to successfully complete a task. The certainty of industry expertise and adherence to a strict code of conduct has put IRATA members at the forefront of work at height and confined access projects globally.