​On 9th and 10th October 2018, IRATA was present at the Health and Safety North exhibition at EventCity in Manchester, UK, alongside fellow members of the Access Industry Forum (AIF).
Organised by Western Business Exhibitions, this event provided free attendance seminars across two theatres, bringing together some of the industry's most respected voices to share fresh perspectives and educational CPD-accredited content. The 'Conference' theatre seminars were selected and delivered by The British Safety Council. Topics ranged from pertinent legal developments affecting health and safety management; the new international standard for health, ISO45001; mental health and wellbeing in the workplace; building a positive 'engaged' health and safety culture; the future of work and risk; to the management of a fatal accident and dealing with an inquest.
The 'Safety Dialogue' theatre seminars presented interactive Q&A sessions, hosted by panels of experts. These sessions offered the audience a unique opportunity to enter the debates, contributing directly to discussing the topics of the day. These included: working at height and preventing falls; using respiratory protective equipment; managing noise and vibration; achieving health and safety leadership excellence in the workplace; working in confined spaces; and training and competence. The seminars provided attendees with the opportunity to engage with industry peers and a panel of recognised authorities on each topic. On Tuesday 9th October, IRATA's Technical Officer was selected to be part of an expert panel that discussed working at height and preventing falls, taking questions for discussion from the audience.
The collaborative efforts of the Access Industry Forum (AIF) members exhibiting at the Health & Safety North, provided a 'one stop shop' for information about best practice when working at height, equipment standards, training and education and expert knowledge.
IRATA would like to thank their fellow AIF members for continuing to work together for the benefit of the work at height sector, and Western Business Exhibitions for holding such a worthwhile event.
The next Health and Safety Event will take place 9th-11th April, 2019, at the NEC in Birmingham. Please visit http://www.healthandsafetyevents.co.uk/event to register your interest in attending the event.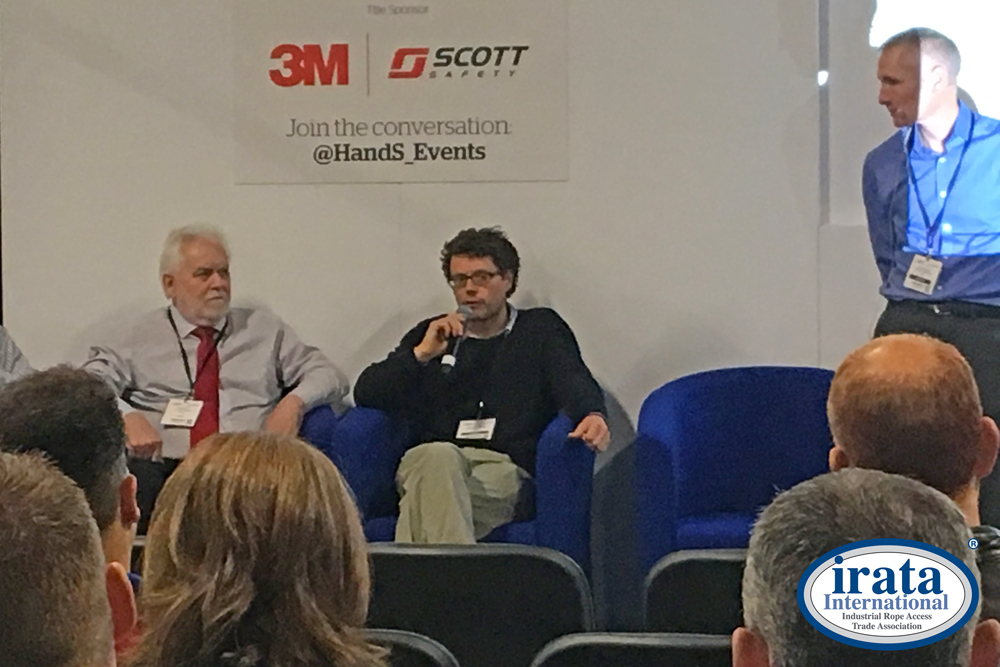 Adam Wainwright, Technical Officer, IRATA, in the Q&A session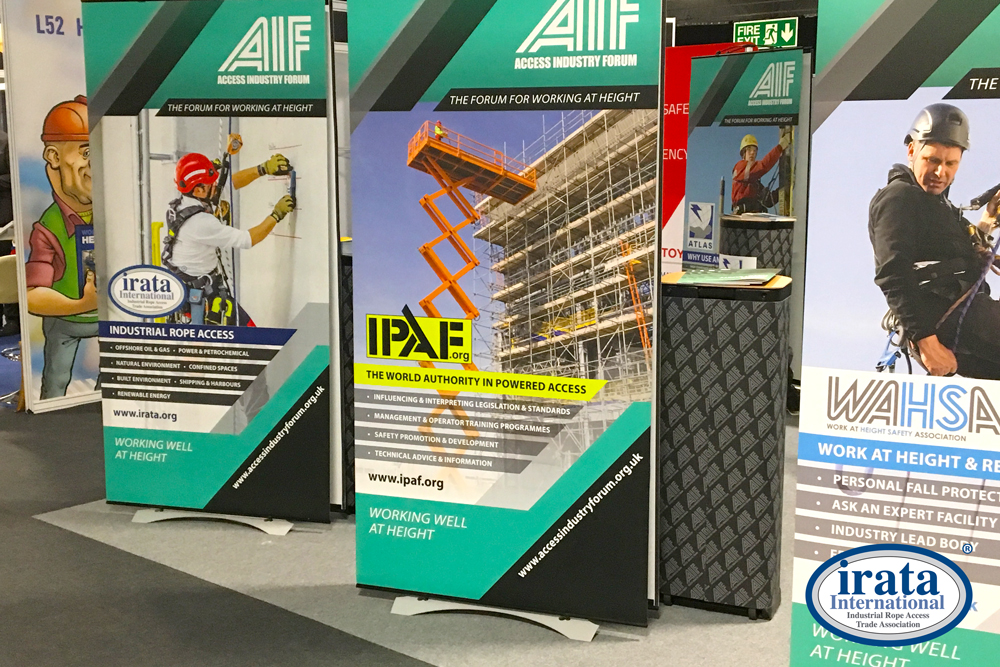 IRATA exhibited alongside fellow members of the Access Industry Forum (AIF)
.