In an effort to combat non-IRATA Operator Member companies using the below 'Trained to IRATA Standards' logo, and other similar logos used to mislead the general public and their perspective clients, IRATA have enlisted the services of a specialist firm of solicitors in this field.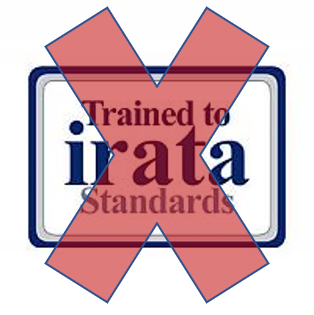 Initially, IRATA will send a cease and desist letter to any non-IRATA Member Company using their logo or similar logos, making false claims about having IRATA membership, or generally passing off as being IRATA members. If these initial approaches are ignored and the company in question continues to infringe on IRATA's intellectual property rights, then IRATA will escalate the case to their solicitors, potentially resulting in formal legal procedures.
IRATA International views attempts to harm its reputation seriously and will exhaust every effort to stringently protect against this.
IRATA suggest that you request the company in question to provide you with their unique IRATA Membership number, and verify this online here (opens in new tab) where all certified IRATA members are listed.
IRATA certified member companies
It is important to note that IRATA technicians are certified in the technical and practical aspects of rope access and that this in itself does not suggest that, without the regulatory controls of an IRATA member company, they will operate within the strict policies and procedures that govern IRATA members.
The operational work of IRATA technicians, working for non-IRATA member companies, is NOT regulated by IRATA in any way.